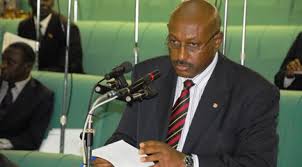 The Attorney General Mr. Fred Ruhindi has said that the Constitutional Amendment Bill, 2015 will be tabled before Parliament by May.
Among other constitutional matters, the bill will provide for the amendment of some laws on elections, which Mr.Ruhindi says the Cabinet would tackle on April 1st to save time since the electoral calendar starts in July.
Opposition political parties and civil society say such reforms would ensure a level–playing field during the 2016 General Election.
Speaking to journalists shortly after he was vetted by Parliament's Appointments Committee, Mr Ruhindi said, "it won't take much time; I will have the Government Printer print it and introduce it in Parliament for the First Reading for further debate."
He added, "in all, if all things go well and all things being constant, i expect that by May we should have gone over this Constitutional Amendment Bill."
Some opposition politicians have often accused the government of delaying the tabling of the bill; with some claiming that government wanted to create a constitutional crisis to serve its selfish interests.
The new Attorney General also called for the harmonization of fines in court cases. He noted that courts were awarding fines differently in similar cases leaving government with a backlog of unpaid fines.
Ruhindi however said during his tenure, he will advocate for a policy that will shift the burden of paying fines in cases involving government officials to the individual institutions.
He says currently, government meets fines for all cases involving its servants which is unfair and encourages negligence.
Ruhindi has pledged to cement the relationship between his office, parliament and the office of the inspector general of Government
Also vetted was his deputy Mwesigwa Rukutana science and technology state minister Tikodri Togboa.
Story by Samuel Ssebuliba