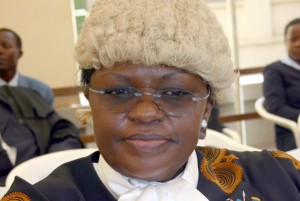 The death of the Deputy Chief Justice continues to affect business at various courts.
The Anti-Corruption Court is no exception, where Kazinda's trial has been pushed to April 3rd.
Kazinda, who is in detention in Luzira prison, is charged with abuse of office, forgery and making documents without authority.
The interdicted principal accountant in the office of the Prime Minister Geoffrey Kazinda had appeared before Justice David Wangutusi to start his defence.
However, the Judge has adjourned the case to allow him time to attend a requiem service to be held in honor of the late Justice Constance Byamugisha.
At the Court of Appeal, the High Court's Civil, Land and Criminal divisions too, business has been suspended.
The Makindye Chief Magistrate Esther Nambayo says all the cases that were meant to be handled in the morning have now been pushed to later in the afternoon.
Justice Byamugisha succumbed to breast cancer yesterday.
A requiem service is being held at the All Saints Cathedral Nakasero  before the body is taken to Kabale for burial slated for Sunday.
Some of those in attendance are former chief justice Wako Wambuzi and the late Byamugisha's predecessor Retired Justice Alice Mpagi Bahigeine among others.