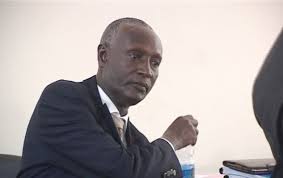 Former Local Government Permanent Secretary John Kashaka has been granted bail.
Kashaka and 4 others had earlier sought to be released on bail but High Court Judge Solome Balungi Bbosa declined saying they had not proved exceptional circumstances and the lost 4 billion shillings had not yet been recovered by government.
Kashaka had for the second time applied for bail challenging the decision of a single judge to keep him in jail pending his appeal.
The three justices of the Appeals Court led by Steven Kavuma have now ruled that he be released on grounds that he was sick and that it is his constitutional right.
They also ruled that the 8 million bail fees considered in the High Court be transferred to the Court of Appeal as well as his sureties.
His sureties had been ordered by the High Court to pay 500million shillings not cash.
Also worth noting is the fact that Kashaka's bail ruling was passed in the absence of journalists that were thrown out on orders of court of appeal registrar, Deo Nizeyimana.
Kashaka's lawyers led by Mohammed Mbabazi refused to talk to the media after the session.
Kashaka is appealing both his conviction and 10-year jail sentence over a botched bicycle deal.