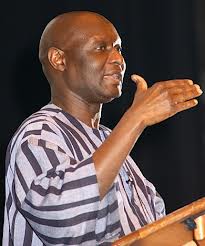 Court has issued summons for the UPC president.
Dr. Olara Otunnu is required to appear before court on April 23rd and answer to charges of libel preferred against him.
The summons has been issued by Buganda Road Court Grade one Magistrate Araali Muhirwa.
It's alleged that on 28th February 2013 without reasonable excuse, Otunnu failed to report to the CID headquarters media crimes department as required by the written police summons.
This is despite acknowledging receipt of the summons on 27th February at a news conference.
Otunnu is said to have called a news conference on 16th January at Uganda house with intention to defame president Museveni and unlawfully published defamatory information in relation to the death of Cerinah Nebanda.