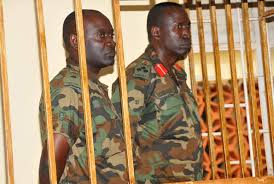 The army court sitting in Makindye is today expected to rule on whether or not 3 UPDF senior officers are fit to stand as sureties for Brig. Michael Ondoga.
The trio is to be examined by the General Court Martial Chairman Brig. Moses Ddiba Sentongo.
They include Brig.Hussein Addah, Brig. Yowasi Kiiza and Brig. David Wakaalo.
The former commander of the Ugandan Contingent in Somalia Brig. Ondoga faces charges of failure to perform his duties and theft of food in connection with the operations at Amisom.
He has been in dentation since October last year.
In a separate case, prosecution also alleges that Brig.Ondoga while at Mbuya army headquarters made false accusations against one Lt. Ali Muzoora before the Chief of Defence Forces saying he was incompetent and could not speak good English despite holding a master's degree.
The allegations were also made against 11 other officers whom Ondoga accused of being money minded and creating cliques.