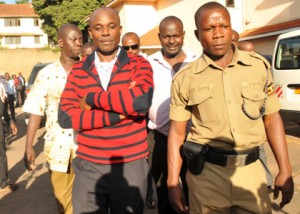 The Constitutional Court has stayed all criminal proceedings against city tycoon Hassan Basajja Balaba.
This follows a petition filed at this court challenging his trial before the Anti-Corruption Court.
In the petition, Bassaja contests the cancellation of his bail, and the DPP's decision to drop charges against him at Buganda road court and carrying on with the same charges at the Anti-Corruption Court.
The charges in question are conspiracy to defeat tax laws and forging a judicial statement.
Together with his brother Muzamiru Basajjabalaba, he is alleged to have forged a consent judgment that led to the payment of Shs 142b, following the cancellation of his market tenders.
The three constitutional judges, Justice Steven Kavuma, Justice Augustine Nshiimye and Justice Remmy Kasule ruled that Bassajja's petition had raised important issues that need interpretation.
The judges also ordered that Basajja's passport be returned to him so he can travel to Nairobi for treatment.
The same judges also ordered that Bassaja reports to the Court Registrar instead of the Criminal Investigations Department.