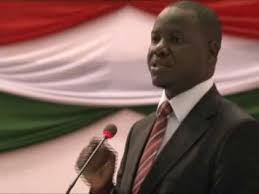 Daniel Kidega is the new Speaker of the East African Legislative Assembly (EALA).
Kidega has been elected unopposed.
Earlier three other Ugandan representatives to the regional assembly had expressed interest in the seat but pulled out along the way.
They were; Mike Kennedy Sebalu (NRM), Chris Okumu Opoka (UPC and Suzan Nakawuki (Independent).
The position of Speaker fell vacant on Wednesday after the House impeached Margaret Zziwa as Speaker over alleged impunity and incompetence.  In a session held in Arusha Tanzania, 36 out of 39 members voted in favour of her impeachment, two members voted against it while one abstained.
After Zziwa was kicked out of office, Uganda had 48 hours to fill the position.
Kidega (NRM) will now be responsible for directing all activities of the House and its Committees.
He will also preside over the proceedings of the regional legislative body under the EALA Rules of Procedure.