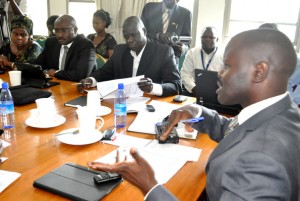 Members of Parliament have threatened to drag officials from the Defense ministry to the Rules and Privileges committee over contempt.
The Defence minister Dr Crispus Kiyonga was expected to appear before the Defence committee today to explain the status agreement between Uganda and South Sudan over the deployment of UPDF troops.
MPs Simon Mulongo, Ssemujju Nganda and Mohammed Kivumbi say the ministry has on several occasions snubbed the committee's requests to appear, which is disrespectful.
They have resolved that the committee writes its report without input from government and Parliament will decide their fate.