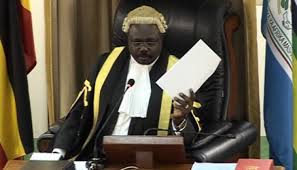 The Deputy Speaker of Parliament has apologized.
Addressing the house this afternoon, Jacob Oulanya has apologized for the stand-off that resulted from the disagreements between him and the suspended MPs.
He however said that he only did it for the sake of peace after thorough consultation with the Leader of the Opposition.
Oulanya also maintained that rules of procedure must always be followed.
Making a statement on the flow of parliament shortly after the Deputy Speaker allowed the suspended MPs back into the house, the Prime Minister Amama Mbabazi said some members behave in an unruly manner. He added that the conduct of some members of parliament must be checked.
Mbabazi also revealed that he plans to move a motion on how to deal with such MPs in future.
Meanwhile, the Leader of the opposition Nandala Mafabi said he wants the police officers who manhandled Kyadondo East MP Ssemujju Nganda last week to be penalized.
Mafabi said the officers must explain why they were illegally in the house in addition to being armed, which is against the rules of procedure.
There has been tension between the Deputy Speaker and some MPs over his demands for an apology from the three suspended legislators.
TheodreS ekikubo, Odonga Otto and Semujju Nganda had been suspended for rowdy behavior during debate on the Public Order Management Bill.
The trio has now been allowed back in the house.
One of them Theodre Sekikubo has welcomed the Deputy Speaker's decision saying it was long overdue.