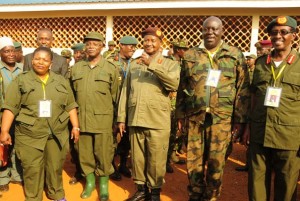 More resolutions supporting President Yoweri Museveni for a 5th term in office continue to come in.
The latest has been passed by NRM Diaspora League which met in London yesterday.
According to a statement issued today, signed by the Diaspora League Secretary General Peter Mashate and Chairman Patrick Asiimwe, the group met and resolved that no one should stand against President Yoweri Museveni.
The meeting took place at a hotel called President's Hotel in Russel square to discuss the resolution made by the caucus in Kyankwanzi and other matters.
The statement says that the NRM Diaspora league has unreservedly backed the NRM caucus resolution endorsing Museveni as the NRM flag bearer for the 2016 elections.
The same league also re-echoed calls on government to create a separate ministry for diaspora to handle their matters instead of allocating a mere desk to them in the ministry of foreign affairs.