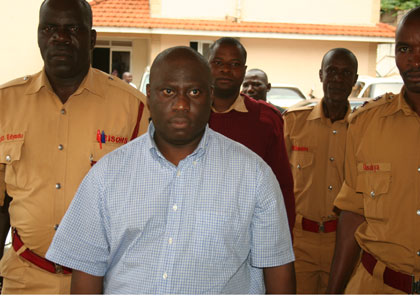 The delayed appointment of the Director of Public Prosecutions is affecting the operations of some courts.
The trial of embezzlement case against the interdicted principal accountant in the office of the Prime Minister Godfrey Kazinda has today failed to kick off because of the same.
Kazinda and his 3 co-accused had appeared before the Anti-Corruption Court Chief Magistrate Irene Akankwasa for plea taking.
However, prosecution led by Jane Francis Abodo told court that the charge sheet had been amended but there was no one to approve it in the absence of the DPP and his deputy.
This prompted Kazinda's lawyer Anthony Wameri to ask court to stay the proceedings until the president appoints a substantive DPP.
The Chief Magistrate Irene Akankwansa has now adjourned the case to August 7th when she will give a ruling on whether or not to stay the proceedings.
Kanzianda's co-accused are John Owori Martin, Commissioner for relief and disaster preparedness in the Prime Minister's office, Kezzabu Beatrice, assistant commissioner for resettlement and Katumwa Hussein, a Manager at Total Petrol station Ntinda.
They face 29 charges of embezzlement, forgery, causing financial loss and false accounting.
They are alleged to have caused the government loss of over 316 million shillings.
Meanwhile, Kazinda is already at Luzira prison serving a 5year sentence after court found him guilty of forgery of the former permanent secretary in the office of the prime minister Pius Bigirimana's signature and being in possession of government stores.