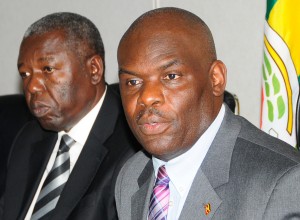 Its four years this week after the July 11th bombings in Kampala, and justice is yet to be served to the victims of the attacks.
Over 70 people lost lives and scores others were maimed after the Al- Shabab militants attacked Kyadondo rugby grounds and Ethiopian village restaurant in Kabalaga where soccer fans were watching the world cup final in 2010.
Four years later, the trial of 12 suspects has never been concluded after the constitutional court halted it following an application by the suspects challenging their prosecution.
However the Director of Public Prosecutions Justice Micheal Chibita says all possible measures are being undertaken to have the trail finalized.
Meanwhile, the police have increased deployment at border points ahead of Sunday's Word Cup final.
Security has been doubled in all parts of the country especially with the world cup finals almost coinciding with 11th July twin bombings that left over 70 people dead.
The police spokesperson Malaba border Michael Odongo says the counterterrorism police is strategically deployed at all border points including none gazzeted ones.
He explained that double checking is being done on all people entering and long distance vehicles from Kenya.