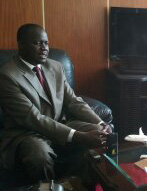 The East African Legislative Assembly (EALA) is pushing for amendments in the EAC treaty to among other things, fast track the regional integration process.
According to the Speaker, Dan Kidega, though the integration process has steadily picked up, there are still some legal roadblocks that need to be fixed.
Kidega says all partner states need to move in one accord if integration is to be achieved.
Kidega further says with time, the election of EALA members may be harmonized to the widely used adult suffrage system used during general elections.