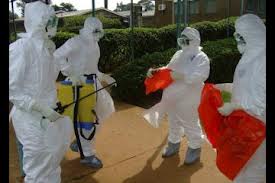 A suspected Ebola patient has died at Mulago Hospital.
The Ebola scare was reported this morning after a 13 year old boy was brought in with Ebola-like symptoms.
Joseph Lukyamuzi was brought in at 6:00am from Katende Masaka road with severe vomiting of blood and was pronounced dead in less than 15 minutes of arrival.
The hospital administration was thrown into panic and the causality department was sealed off for some time for fumigation.
However, after several tests were carried out on the body, it was established that the deceased had died from dehydration.
The Mulago Hospital Director Byarugaba Baterana has told KFM that the body of the deceased has now been handed over to the relatives for burial.
Baterana however cautions the public and urges them to report any suspected cases to the nearest health facility for investigation.