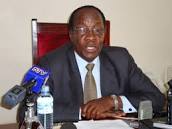 As the country prepares for the 2016 general elections, the Electoral Commission is calling for amendments in the electoral laws to allow Ugandans in the diaspora to engage in the electoral process.
The commission Chairperson Eng Badru Kiggundu says the amended law must provide for resources and clear procedures on how to register Ugandans in the diaspora for elections.
Kiggundu also says the law must specify where these Ugandans vote from like at Uganda's commissions abroad.
Currently Ugandans abroad are not eligible to vote since they are not catered for in the electoral laws.
Story by Herbert Zziwa