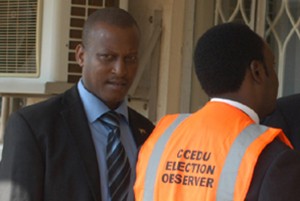 The electoral commission has down played allegations that it has inflated the costs for preparation of the Kampala mayoral by-election yet its validity is still pending.
According to the Citizens coalition for electoral democracy- the whole process is a risk, yet it requires a colossal amount of money.
They are demanding that the electoral commission declares the cost to be incurred.
The electoral commission spokesperson Jotham Taremwa says this is mere speculation which is diversionary.
Meanwhile, all is set for the nomination of candidates vying for the Bubulo West constituency parliamentary seat.
The Electoral Commission set March 24th and 25th for the exercise.
The commission spokesperson Jotham Taremwa tells KFM that all aspiring candidates ought to come with the required documents to avoid inconveniences.
Campaigns are set to be held between March 27 and April 7 before polling day on 10th April in a bi election to replace former Bubulo West MP Tonny Kipoi Nsubuga.
The MP's seat was declared vacant after he missed more than 15 consecutive sittings and giving inadequate explanation for his absence.