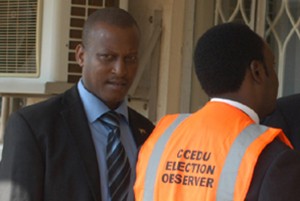 The vacant UPDF seat in parliament is to be filled soon.
The Electoral Commission says election of the person to replace Gen. David Sejusa who was recently thrown out of parliament will be held before the end of January 2014.
This has been confirmed by the Commission's spokesperson Jotham Taremwa, who says they are only waiting for some information from the defense ministry before a date can be set.
Sejusa, one of the 10 army MPs, was thrown of parliament last year following his absence from parliament over 15 consecutive sittings.
The committee on rules, privileges and discipline revealed that Sejusa's name appeared in the parliamentary register only four times since May 2011 when the ninth Parliament began. His official leave expired on August 27 and during this time he missed 41 sittings of the plenary.
Gen Sejusa left the country in May, after he alleged that there was a plot to kill officials allegedly opposed to the rumoured presidential ambitions of First Son Muhoozi Kainerugaba presidency.
He had at the time been granted a three-week leave from the speaker, which was later extended for three months until August 27. His application for another extension was declined by Kadaga, who subsequently committed him to the committee on Rules, Privileges and Discipline after he failed to turn up in the House as directed.