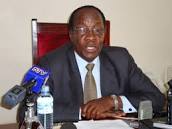 All is set to have the four NRM rebel Members of Parliament replaced.
The Electoral Commission has announced that the bi elections for the four positions will be held on the 17th of April.
Commission boss, Eng Badru Kiggundu says it will be held concurrently in the four constituencies.
Nomination of candidates will take place on the 31t of March and 1st April.
The Lord Mayor will also be elected on the same date.
The commission is now calling for cooperation from all candidates to have a successful process in the five bi-elections.
The MPs were thrown out of parliament after court confirmed they could no longer represent the party that sent them.
And the lord mayor was thrown out by a team of councilors after a commission of inquiry into the mess in the city found him guilty of incompetence.