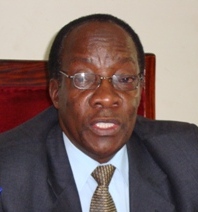 Preparations to fill up the Butebo parliamentary seat have begun.
The electoral commission has set the 5th-June this year for the Butebo by-election.
Nomination of candidates will take place on the 13th and 14th of May with the whole exercise expected to cost Shs 469 million.
The Electoral Commission Chairperson, Eng Badru Kiggundu says that a stakeholders meeting will be convened on Monday next week.
Kiggundu says the campaigns will run for 20 days.
The seat fell vacant after the death of disaster minister Stephen Malinga nearly two weeks ago.
Meanwhile, the electoral commission says it has not yet received any communication about any vacant seats in constituencies whose representatives were sacked from NRM.
This comes as NRM pushes to front candidates to replace four of its Mps who were dismissed over reported indiscipline.
The commission's chairperson Eng Badru Kiggundu says it cannot begin preparations for the elections out of anticipation but is confident that once officially communicated to, the commission would be ready to conduct the exercise.
The Mps include Rwemiyaga Mp Theodore Sekikuubo, Buyaga west Mp Bernabas Tinkasimire, Ndorwa East Mp Wilfred Niwagaba and Kampala Central Mp Mohamed Nsereko.