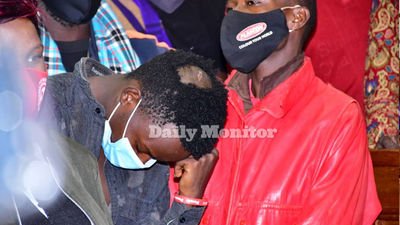 By Malik Fahad, David Wandera, Al- Mahdi Ssenkabirwa 
The Chief Magistrate's Court in Masaka yesterday granted bail to majority of National Unity Platform (NUP) members and private guards of presidential candidate, Mr Robert Kyagulanyi alias Bobi Wine who were arrested in Kalangala District last week.
A total of 126 suspects appeared before both Masaka Chief Magistrate, Mr   Charles Yeteisi and Grade One Magistrate, Ms Grace Wakholi at different intervals in two separate court rooms. The court administration indicated that this was to cut time and the bulk of work for one court official.
Among the suspects is Bobi Wine's singing partner, Ali Bukeni alias Nubian Li and Mr Eddy Ssebufu aka Eddie Mutwe (Bobi Wine's private guard).
Yeteisi heard that Eddie Mutwe , Nubian Li and  others  on  December 31 ,2020 at Kibale Village, Buyoga Sub County, Kalangala District incited  violence and also did a negligent act likely to spread an infectious disease .
However, the accused persons pleaded not guilty to the charges.
The defence lawyers led by Majeran Kazibwe asked the court to grant the suspects bail since they have spent over five days in police custody and many had been tortured.
Read more: https://www.monitor.co.ug/uganda/news/national/eddie-mutwe-several-other-bobi-wine-supporters-remanded-until-january-19-3247442