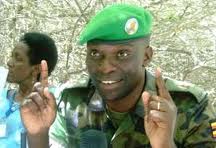 The loose state authority in the Democratic Republic of Congo is hindering the Uganda People's Defense Forces' efforts of pursuing the Allied Democratic Front  rebels.
According to the Ugandan army spokesperson Lt Col.Paddy Ankunda, the rebels are mainly operating in ungovernable zones which the government of Congo must start occupying.
He says the UPDF will ensure that all the entry points near the DR Congo are effectively protected to prevent these rebels from crossing over to Uganda.
This comes after the UPDF captured some of the ADF recruits in Buvuma Islands who were reportedly recruiting children into rebel activities.
Uganda is currently home to thousands of Congolese refugees who have fled fighting between the rebels and the government forces in the eastern part of the country.