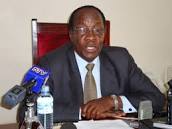 The Electoral Commission has set 19th March for the Bugiri district LC 5 chairperson by-election.
The seat fell vacant after the district chairperson Marijani Azalwa was found guilty of assaulting his political opponent David Mulengeni during the campaigns of 2011.
The electoral commission chairperson Eng. Badru Kigundu says all interested candidates will be nominated on February 23rd and 24th and thereafter the campaigns will run for 21 days from 25th the same month.
Kigundu says commission will carry out fresh display of voters register from 4th- 9th March to weed out ineligible voters.
Over 145,000 voters from 325 polling stations are expected to participate in the bi-election.