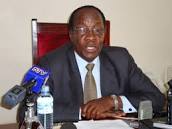 The Electoral Commission says it will maintain the same wireless transmission of electoral results like it was in the 2011 elections.
Despite complaints by the opposition that the system was characterized by manipulation, the commission Chairperson Eng. Badru Kiggundu, says the system was efficient especially in delivering electoral results within the 48 hours.
Kiggundu says there are few improvements to be made in the system but not an overhaul.
Kiggundu says the system is free from cheats since it relays results instantly from all parts of the country.
Story by Herbert Zziwa