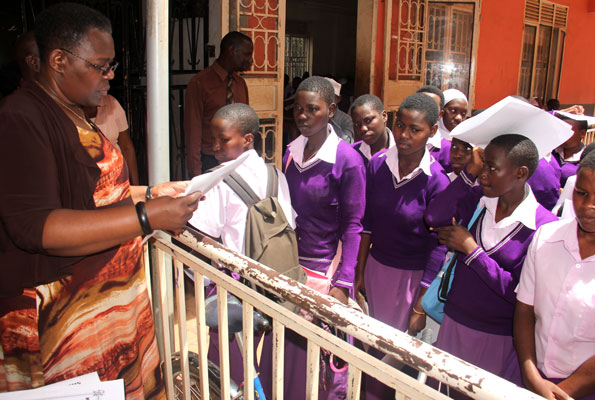 The government is grappling with high student numbers in secondary schools implementing free education amidst limited resources.
Dr Nassali Lukwago, the ministry of Education permanent secretary, yesterday said while the wage bill has not increased in the past years, the ministry is overwhelmed by the number of students who have enrolled in schools under the government's Universal Secondary Education.
Dr Nassali made the remarks as the ministry yesterday started nationwide headcount of students in schools supported by government to ascertain the number of students accessing free education. The annual headcount is aimed at eliminating ghost students and planning for resource allocation.
"We would like to employ more teachers but the wage bill doesn't allow us. We hope with time as the government resource envelope improves, we shall be able to recruit teachers because the students seeking an education in our schools have increased," Dr Lukwago said yesterday.
For instance, there are 3,102 students at Kololo Secondary School. According to the headmistress, Ms Margaret Waduwa, each class has eight streams with more than 80 students each. But the teacher student- ratio should at least be 1:60.
She explained that even with the double shift programme, the teachers are still overloaded as they only have 72 on payroll and require 90 more.
"We don't have enough teachers on payroll. We are running a double shift programme. We could not deny students admission because they qualified and we have to meet the ministry's vision of accessing education to everybody. Because of the big numbers in the streams, teachers are strained," Ms Waduwa said.
"With 24 lessons per week, the teachers have to mark student books, parents are not supportive as they don't provide scholastic materials and many children come to school on empty stomach," she added.
In Tororo, the district education officer, Mr Yonah Gamusi Doya, said majority of students from private schools partnering with government missed the exercise as they were not on the schools' premises at the time of the activity.
He urged that some schools use this as a trick to introduce ghost students in their student registers so that they can get more capitation grant.
However, the government yesterday warned that schools which doctor the number of beneficiaries in their respective institutions risk missing out on capitation grant for second term.
The commissioner of planning and policy analyst in the ministry, Mr Geoffrey Dhatemwa, said although the ministry based on estimates to plan for this first term, they will rely on actual schools' enrollment for next term.
"We shall send our team after the exercise to do the verification and if it is discovered that teachers inflated the figure, we shall definitely suspend funding to those schools," Mr Dhatemwa, who also monitored the exercise in Mpigi district, said.
There were 806,992 students last year who benefited from USE in 1,719 public schools while 67,951 were under post O-Level scheme in 957 schools. The introduction of USE in 2007 saw the number of bright but needy students increase by 28.2 per cent in secondary schools and post-primary institutions.
editorial@ug.nationmedia.com
SOURCE: monitor.co.ug