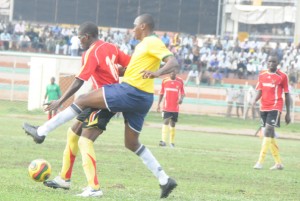 Former members of the FUFA executive have told MPs that it is wrong for a private company to run the country's football.
The group of four made the remarks while appearing before the education and sports committee that is handling a petition by the Uganda Footballers Association.
Led by John Baptist Semanobe, the group said they were equally concerned about the way football is being run in the country.
Citing an earlier case where Denis Obua's executive was disbanded because he had registered FUFA as FUFA Ltd, Semanobe said it was equally wrong for FUFA Ltd now to be running football in the country.
Semanobe appeared together with a fellow former FUFA executive and ex internationals Hassan Mutaasa, Pole Auma and Wadrif Ahmed.