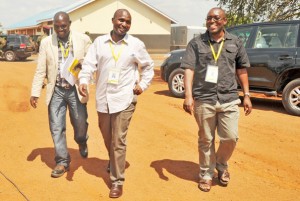 The expelled NRM MPs have no chance to appeal.
The NRM secretary General Amama Mbabazi has said the decision by the Central Executive Committee is final and not appealable.
The NRM Party yesterday expelled four members; Theodore Sekikubo for Lwemiyaga,Wilfred Niwagaba Ndorwa East, Barnabas Tinkasimire for Buyaga and Mohammed Nsereko Kampala central.
They are accused of antagonizing the party, opposing official party positions and using wrong forums to address party issues.
Specifically, Nsereko is accused of campaigning against an NRM candidate in the Bukoto East by election, while Tinkasimire is among other things accused of using abusive language.
Kyamadidi on the other hand is suspended for three months for forming cliques and appearing disorderly in public.
Addressing journalists at the NRM headquarters at Kyadoddo road, Mbabazi also said that he had written to the Speaker of Parliament and the Electoral Commission for guidance on the next course of action.
The Rebel NRM MPs have vowed not be gagged by the expulsion.
They are considering several options including forming another party come 2016.
One of them, Mohammed Nsereko says this will not deter them from speaking out against wrong party policies.
He cites the case of Kenya where the current president Uhuru Kenyatta was expelled from KANU but he later formed another party that has since been successful.
Nsereko has told journalists that they do not regret being dismissed, adding that more people are likely to leave the party because of power struggles.
MP Wilfred Niwagaba also says he is not bothered by the decision, adding that he is waiting for official communication from the party before deciding on the next course of action.