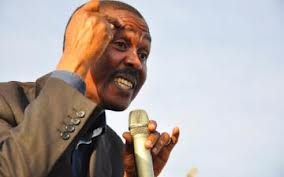 Opposition Forum for Democratic Change (FDC) president Maj. Gen Mugisha Muntu is calling for a more transparent process of retiring army officers.
The call comes after President Museveni agreed to retire Gen David Sejusa from the army following his recent outbursts in the media.
Muntu says there are many senior UPDF officers in a similar situation who need to be considered for retirement to enable them actively engage in politics.
Muntu however says as FDC they will not work with any military officer to cause change if they are still serving officers.
In a separate development, the office of president has embarked on mass sensitization of the Army and prison officials on the application of the National ethical values policy and anti-corruption strategy.
The move follows the increased cases of corruption, with security organizations ranked highest in various reports including the latest by Transparency International.
According to the director Ethics Amos Lapeng, the campaign is meant to change the perception of law enforcers towards corruption.
He explains that corruption cannot be fought if the law enforcers as well as the investigating and prosecuting agencies are engaged in the same.
Story by Herbert Zziwa