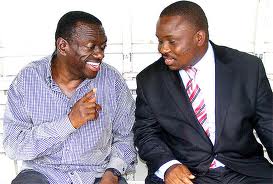 Former FDC leader Dr. Kiza Besigye is now a free man.
The former Forum for Democratic Change leader has been released from Naggalama police station where he was detained overnight.
The FDC women league leader Ingrid Turinawe says he was released at 2:00am.
She has however condemned the manner in which the police treated Besigye saying his rights were violated.
She says Besigye was released in the middle of the night without informing his relatives.
Besigye was arrested yesterday as he left his home in Kasangati off Gayaza road, in what police has described as a preventive arrest.
The police spokesperson Judith Nabakoba yesterday said Besigye's arrest followed intelligence information that he was planning to mobilise the public to engage in acts of lawlessness at City Hall, where the decision to impeach the Lord Mayor Erias Lukwago was made.
Meanwhile calm has been restored at KCCA with business going on normally.
The city hall was a scene chaos and battles between the police and protestors as the city councilors met to impeach the lord mayor Erias Lukwago.