By David Kugonza
Marouane Fellaini was sent off for headbutting Sergio Aguero as Manchester City and Manchester United fought out to a goalless draw at Etihad Stadium last night.
Manchester United manager Jose Mourinho will be the happier after they extended their unbeaten league run to 24 games, a feat achieved without Fellaini in the closing stages after he was dismissed for a senseless headbutt on Aguero.
Pep Guardiola was left with an injury concern when keeper Claudio Bravo was taken off on a stretcher after injuring his calf catching a cross in the second half.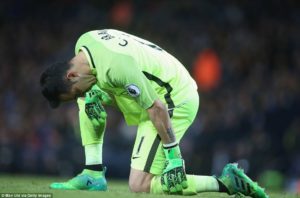 Manchester City goalkeeper Claudio Bravo has been carried off the pitch in a stretcher during the derby – to the derision of Man United legend Gary Neville.
The City stopper suffered what appeared to be a calf strain before being taken off on a stretcher against United, substitute keeper Willy Caballero replaced him.
However United legend Neville was less than sympathetic, as he questioned why Bravo required a stretcher for an apparently minor injury on the Sky Sports commentary.
Neville slammed Bravo, saying: 'A stretcher for a calf strain… please. Oh come on' as the keeper went off.
Neville continued, lightly chuckling: 'He'd not done anything for 20, 25 minutes, he'd not been involved and then he's leaped with his left leg for that catch from the last corner.
'I'm not quite sure why there's a stretcher on. It's a calf strain. Am I missing something? You don't need a stretcher on for a calf strain. Please.
ManCity were the threat in the game but Mourinho's side showed all the qualities that have ensured they have remained unbeaten in the Premier League since October to battle their way to a point.
Unwanted Stats in Draw……………….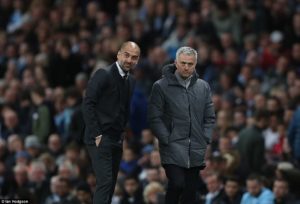 Jose Mourinho clearly set out to get a point at Manchester City in the derby Thursday. The United boss accomplished that goal, but his side posted some ugly stats in the process.
In fact, City had so much of the ball that, according to Opta, United posted their lowest possession figure (30.8%) in a Premier League game since the metric was first collected in 2003-04.
United were also out-shot 19-3 and out-passed 556-199.