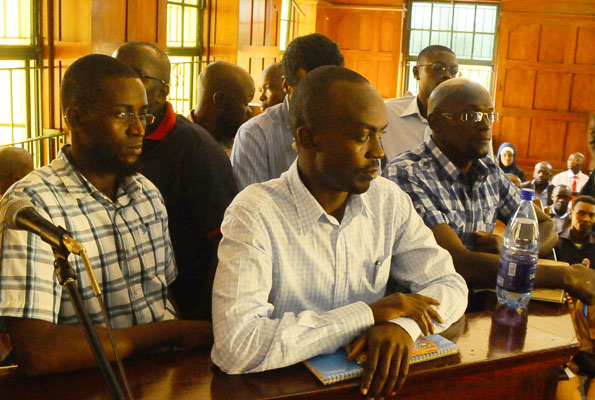 The first prosecution witness in the 2010 twin bomb attack on Uganda that claimed 79 lives, today kicked off the grand hearing of the case.
Muhamood Mugisha, an ex convict over the related terror attacks, narrated to court of how the attack on Uganda was hatched in Somalia after he joined the Al-Shabab in 2008.
He further told court presided over Justice Alphonse Owiny-Dollo that he joined the militia after being motivated by the teachings of Jihad that he said he attended in Nairobi, Kenya.
He was also able to indentify five out of the 13 suspects currently under trial with whom he said he had trained in Somali to unleash terror onto Ugandans.
The suspects that he identified were Hussein Hassan Agade, Mohamad Hamid Suleiman, Suleiman Njoroge, Isa Ahmed Luyima and Sulaiman Hija Nyamandondo.
Muhamood who is currently under state protection, said his former Al-Shabab bosses wanted to hit Uganda in revenge for their troops in Somalia that were keeping the government in power and yet they wanted power too.
Court also heard that the American embassy in Uganda was one of the top hit targets by Al-Shabab but he said they failed to hit it due to the tight security.
Due to security lapses, the group was able to hit Kyadondo Rugby club and Ethiopian Restaurant in July 2010 that saw over 79 football fans who were watching a world cup final match killed leaving scores injured.
32 year old Mugisha, was arrested and arraigned in the High Court in 2011 where he pleaded guilty to charges of conspiracy to commit terrorism and was sentenced to five years.
He has since completed serving his sentence and now turned into a state witness.
The 13 suspects face charges of murder, attempted murder, belonging to Al shabab group an affiliate of Al qaeda a terrorist organization among other charges.
Court resumes today with the same witness testifying further.
Story by Ruth Anderah