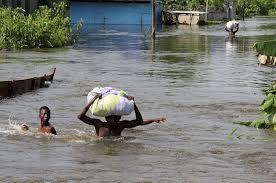 Floods continue to wreak havoc in Kasese district with four people confirmed dead.
According to the Kasese mayor Godfrey Kabyanga, the deceased were over powered by raging water as they attempted to rescue goods from a flooded shop in Kilembe.
He has identified two of the dead as Paddy Karusu, the former Kasese district procurement officer and a teacher at Bunyandiko Primary School.
Kilembe hospital and staff quarters have all been submerged and patients have been evacuated to Kasese Municipal Health Center II.
According to our reporter Thembo Kahungu, a medical worker at Kilembe hospital identified as Yusuf Muheka was stuck for several hours on a tree where he had sought shelter from the raging waters and was only rescued at 6:00pm.
Several other people are still stuck on trees and rescue efforts by the Red Cross Action Team have still been futile.
According the Uganda Red Cross Spokesperson Catherine Ntabadde, the most affected divisions are Bulembya and Nyakasanja.
Labour Day celebrations were also disrupted by a heavy down pour.
The rains left several homes, buildings, crops and electricity poles destroyed and the venue of the event at Hima Play grounds in Hima town councils flooded.