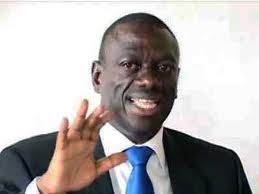 The minister of defence has spoken out on the fate of Ugandans arrested in the Democratic Republic of Congo.
Dr. Cryspus Kiyonga has told parliament that government still awaits repatriation of Ugandans arrested there.
This followed concerns raised by Kasilo County Member of Parliament Elijah Okupa over the arrest of FDC's supporter and aide to former Forum for Democratic Change leader Dr. Kiiza Besigye Sam Mugumya, asking government to explain his whereabouts.
In response, Dr Kiyonga said Mugumya had been arrested with three others who have since been taken to Kinshasa.
He however says government through diplomatic means is seeking to establish why they were arrested and their possible repatriation.
Earlier today, Dr. Besigye finally spoke out on the arrest of his aide.
Addressing journalists at the IPC office on Katonga Road in Kampala, Besigye said the arrests are intended to intimidate opposition leaders ahead of the 2016 general elections.
He said the Ugandan government was intentionally crippling opposition members tying them to rebel activities.
"I have information that they are interrogating him (Mugumya) with a view of linking me to rebel activities. This case of Mugumya has a history of a rogue regime that is intent on criminalising a legitimate political opposition," Dr Besigye said.
According to army Spokesperson Lt. Col Paddy Ankunda, Mugumya was arrested in Eastern Congo while he allegedly attempted to recruit people into rebel activities.
Besigye has called on the Congolese government and human rights bodies to speak out about Mugumya's case to ensure his rights are not violated.
This comes a day after the UN confirmed that more than 200 people had been arrested in connection with recent attacks against civilians near Beni town, in the North Kivu Province of the Democratic Republic of the Congo.
According to Stephane Dujarric the UN Spokesperson, last month, dozens of people were killed in attacks suspected to have been carried out by the Uganda-based rebels known as the Allied Democratic Forces.