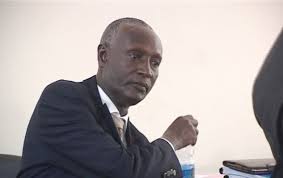 Former permanent secretary in the local government ministry John Kashaka has been denied bail.
Court of appeal Justice Solomy Barungi Bosa said that Kashaka had not produced sufficient evidence to show that he has kidney disease.
Justice Bosa said medical forms submitted to court instead showed that Kashaka has Hepatitis B which can be treated at Luzira prison
On the ground of advanced age, the judge said that Kashaka is not weak and should therefore stay in prison.
However court granted bail to two Kashaka's co- accused that included consultant Timothy Musherure and Adam Aruma a former member of the evaluation committee.
In the same way, Justice Solome Bbosa stayed an order to have the accused persons refund the Shs 4billion lost in a botched bicycle deal until their appeal is heard.
Kashaka and 5 others were on 17th, July 2014, sentenced to 10 years imprisonment and ordered to refund the misappropriated funds.