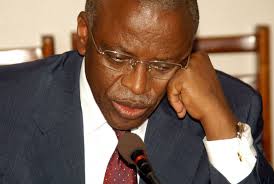 The NRM Central Executive Committee has voted to recommend to NEC that Secretary General & Deputy be appointive.
This has been confirmed by the party deputy spokesperson Ofwono Opondo.
Earlier, former Prime Minister and current Secretary General, Amama Mbabazi, is said to have walked out of the Central Executive Committee meeting.
Mbabazi and his wife Jacquiline (who is the chairperson of the NRM women's league, staged the walkout when it became clear that CEC was going to approve a proposal to amend the party constitution so that the Secretary General is no longer elected by party members but appointed by the party chairman.
CEC unanimously passed the resolution without anyone else opposing it.
Mbabazi was previously thought to enjoy the support of the chairman of the party youth league, Denis Namara and the chairman of the party entrepreneurs league, businessman Hassan Basajabalaba.
However, both seem to have abandoned him during the tense CEC meeting as Namara openly supported the proposal and Basajabalaba remained silent on the matter.
However, in tweet, Mbabazi has refuted reports of a walk out, saying he asked the Chairman for permission to go and study the amendment and I was granted permission but did not storm out.
Youth leaders from Kanungu District have started a regional mobilization campaign to support the former Prime Minister Amama Mbabazi for presidency.
The Kanungu youth council secretary Mr Apollo Twinamatsiko on  said that they have already mobilized several university students  and other students Kigezi region to support Amama Mbabazi becvouse he is a  good national leader.
H explained that they targeting "least 200 university students to join the campaign to vote for Mr Amama Mbabazi if he stands for presidency, even if the national delegate's conference endorses a different person.
This comes at a time when the central executive committee has just agreed to grant more power to the party chairman to appoint and dismiss the party secretary general.
The NRM delegates' conference opens tomorrow at Namboole stadium.