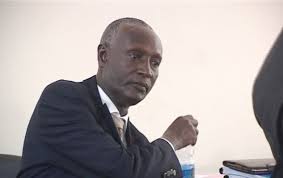 Jailed former Permanent  Secretary in the Local Government Ministry John Muhanguzi Kashaka has once again applied for bail.
He is challenging the decision of one Court of Appeal judge to deny him bail pending his appeal.
Kashaka and 4 other people had applied for their release on bail but Justice Solomy Balungi Bbosa declined to grant it saying they had not proved exceptional circumstances and the lost Shs 4 billion in the ministry had not yet been recovered by government.
Having been dissatisfied with this decision, Kashaka and his colleagues are now pleading before three Justices of the Appeal Court; Steven Kavuma , Augustine Nshiimye and Rubby Opio Aweri to review the decision of their fellow judge.
Kashaka and and his co- convicts are serving custodial sentences  ranging from  6-10 years at Luzira Maximum prison for causing government a loss of  Sh 4 billion in a botched bicycle scandal.