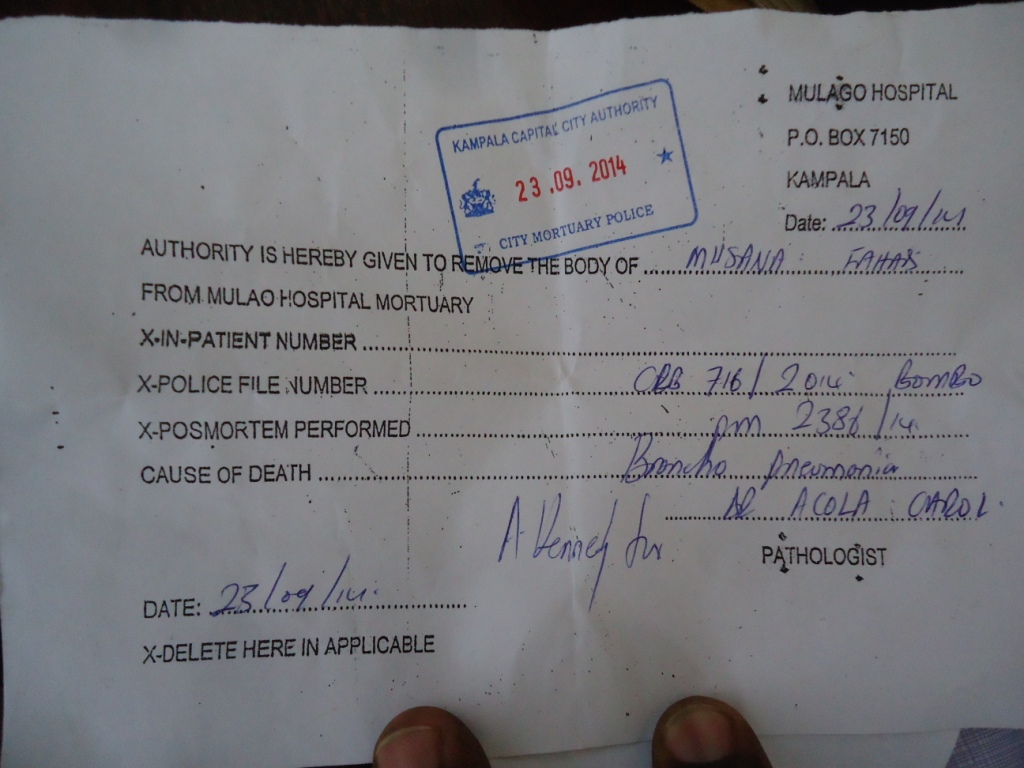 Apathologist has confirmed that the fallen player for Simba FC Musana Fahad died of Pneumonia.
This was contained in a post mortem report delivered by the manager of the club Perez Muwezi yesterday 23rd of September during the burial ceremony of the deceased at Walugogo village in Bulamagi subcouty Iganga district.
The report dated 23rd of September signed by Dr Acola Caroh, a pathologist at Mulago national referral hospital seen by our reporter showed that the deceased died of Broncho Pneumonia.
"We have brought a precise report from Mulago hospital and it indicates that the deceased died of Broncho Pneumonia. The detailed report will be released within four days"Mr Muwezi said as he handed over a copy to the deceased's relatives.
Mr. Fahad Musana  died over the weekend shortly after watching English premier league match between Chelease FC and Manchester city in one of the video halls in Kampala.
Mr. Muwezi described the deceased as a person who had passion for football and would be missed by the country.
"He was talented and as a club we had hope in him. His death got us by surprise because on Saturday we where together in a training "His manager said.
In addition to funding funeral services, the club contributed shs three hundred thousand as condolence dues and Mr Muwezi pledged to give next of kin, money the deceased was supposed to receive as salary for this month.
The federation of Uganda football association [FUFA] contributed shs two hundred thousand as condolence fees. The money was handed to the relatives by Mr Sam Iwere a FUFA executive member who said they had missed one of the players who was yet to play for the national team.
The deceased had one wife who was reported to be pregnant.