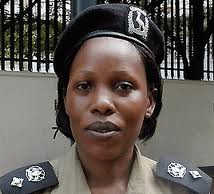 Police has begun the hunt for an unknown assailant who shot dead 10 people at a bar in Bombo.
The dead have been identified as Joel Obote, Onesmus Adule, Corp. Isaac Ojole, Francis Musana , a one Adule, Private Keddi,Sarah Akello Wilfred Orede and the bar owner identified as Maama Jackie among others.
The assailant stormed the bar located in Bombo market, and opened gunfire, killing 9 on the spot.
Two other people are still hospitalized at Bombo hospital.
Deputy police spokesperson Vincent Sekate says the motive of the assailant is not yet known.
Meanwhile Buganda region police spokesperson Lameck Kigozi says that the commandant of Bombo Army Barracks has offered coffins and transport to the families of the deceased.
Kigozi says security is to be tightened to avoid any such occurrences in future.
Meanwhile,
The proprietor of 4-Turkeys, a popular in Entebbe was last night shot and killed by unknown people.
Derrick Kuruga was shot while at his gate home gate in Entebbe.
The deceased is said to have left 4-Turkeys Bar at Entebbe at around 11 pm and headed to his home, from where he was shot at as he waited for the gate to be opened.
He reportedly heard gun shots and was shot in the neck as he asked his gate keeper about their whereabouts.
Kuruga reportedly managed to drive himself to St Marie's clinic but was found dead at his car's sterling wheel.
The Kampala Metropolitan Police Spokesperson Ibin Senkumbi says they have managed to arrest his security guard to help with investigations.
Senkumbi says they have also mounted a search for the unknown assailants.