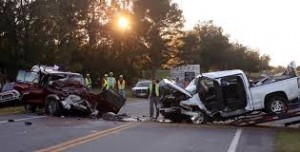 Four people have been confirmed dead in an accident that occurred in Kakira along Jinja-Iganga road.
The accident occurred this morning when a Tororo- bound taxi registration number UAT 875K collided head-on with Fuso truck carrying cement.
Edison Turamyomwe the Jinja region traffic officer has blamed the accident on over speeding.
He says the truck driver lost control and it veered off the road and fell into a ditch after hitting the taxi.
He has identified the dead as 40 year old Peter Ofwono a resident of Lubaga in Kampala, Rose Nyamwere also from Kampala as well unidentified 4 year old child and  a 30 year old man.
Turamyomwe said several passengers in the taxi have sustained minor injuries and have been taken to Jinja Hospital for treatment.