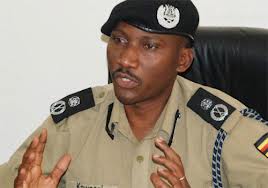 Four senior police officers have been arrested in connection with the murder of their colleague in Kajjansi.
The officers are set to answer charges relating to operational misjudgment.
This is after the Officer in Charge of Kajjansi police station Joseph Bigirwa was shot dead on Friday night by suspected robbers.
Those arrested include the Division Police Commander Edison Muganzi, the Officer in Charge of Operations, the Officer in Charge of the Criminal Investigations Department and another officer who was in charge on the fateful day.
Speaking to media today, the Commandant Kampala Metropolitan Andrew Felix Kaweesi said there was avoidable operational error that led to the death this officer, thus disciplinary action must be taken.
This comes days after another officer, identified as Nelson Tugume was killed in a separate shoot out with suspected robbers in Nalumunye, a city suburb.
The police spokesperson Judith Nabakoba told KFM earlier, that investigations into both murders have been intensified and that the police Flying Squad had been deployed in both place collect relevant information