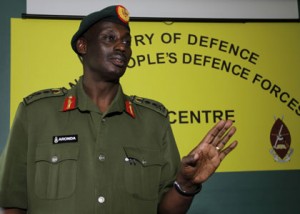 The army has hit back at Gen David Ssejusa saying he is out of order.
This is after the General admitted in an interview with the Daily Monitor that he wrote to the Internal Security Organization highlighting Intelligence concerns about the likely consequences of what the public has dubbed the "Muhoozi project.
In the letter, Gen. Tinyefuza called for investigation of claims to eliminate or frame colleagues that may not be in support of the alleged bid by first son Brig. Muhozi Kainerugaba for presidency.
In a press statement, Army commander Gen. Aronda Nyakairima says Ssejusa is operating outside the law, and his statements are aimed at tarnishing the good image of the UPDF.
Aronda also refutes claims that the Mbuya army barrack attack was stage- managed to implicate some officials opposed to the Muhoozi project.
Aronda says it out of procedure for the Coordinator of Intelligence to communicate to his appointing authority who is the President and Commander-In-Chief through his subordinate.
He warns Gen Ssejusa of the implications of contravening the military code of conduct by uttering such statements.