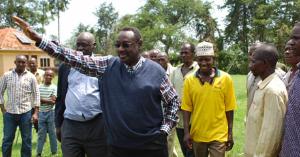 The UPDF renegade General David Ssejusa is set to return to Kampala on Tuesday next week amid speculation of his next political move.
Ssejusa made a surprise return from the UK where he had had run to following accusation of a planned coup.
Upon return on Sunday, Sejusa went straight to his country home in Ssembabule district.
His spokesperson Moses Bigirwa says Ssejusa is coming to town to reassure Ugandans that he still stands against impunity.
Bigirwa says they have already notified the police about Ssejusa's  return to Kampala and so they expect no interference.