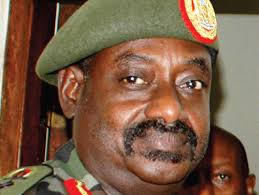 Gen David Sejjusa will have to prove claims that his life in danger.
This is after his lawyers told members of parliamentary committee on Rules, Privileges and Discipline that their client could not turn up in person because his life is threatened.
Led by Joseph Luzige, Sejusa's lawyers asked the committee to consider other means of speaking to their client like Skype because they cannot also represent him in such a matter.
Committee chairperson Fox Odoi has now ordered that the team produces evidence to show that Sejusa is not safe in the country by Thursday this week when the committee hears from them again.
They have also been ordered to produce a letter from Gen Sejusa confirming their role in the matter before close of business today.
The committee is now hearing from state defense minister Jeje Odong.
Sejjusa's matter was referred to the Rules and Discipline Committee after the speaker Rebecca Kadaga confirmed that he was not in UK on parliamentary or official army duties.