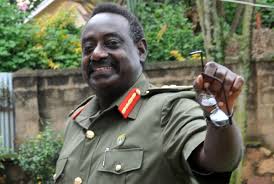 The Former Coordinator of Intelligence Services David Sejusa is now fighting for salary arrears.
Through his lawyers Michael Mabikke and David Mushabe, Sejusa says that he has not received salary for over 2 years.
He says he is still a serving army officer and entitled to a salary.
Addressing the media, Mabikke said they are going to seek legal redress to have his client's salary cleared because he is not a deserter.
However the Joint chief of staff Wilson Mbadi says a fixed payment is made for only regular services and since Sejusa was not at work, he did not deserve a salary.
Army officers at the rank of General earns Sh2.5 million per month.
Story by Herbert Zziwa