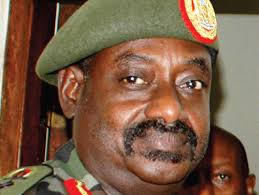 General David Sejusa is still the coordinator of Intelligence Services.
This is despite the controversies surrounding his absence from parliament and the army.
The revelation was made by the state minister for defense Jeje Odong while appearing before the parliamentary committee on Rules Privileges and Discipline that is investigating the conduct of the renegade General in parliament.
Odong said that Sejusa was neither sacked nor replaced and therefore he still holds his position in the army.
He however said that when he comes back from wherever he is he will be tasked to answer for being absent from duty for more than 21 days without permission.
Earlier, Odong asked parliament to throw Gen David Sejusa out.
He said Sejusa had failed to represent the army very well.
He asked the committee on rules and privileges to recommend that the army replaces him as soon as its work is complete.
Earlier, committee chairperson, Fox Odoi ordered Sejusa to confirm claims that he could not appear before the committee because his life was in danger.
His lawyers were also ordered to produce a letter from Gen Sejusa confirming their role in the matter.
The minister also told MPs that Gen. Sejusa's absence try is a threat to the country's security.
Odong explained that Sejusa has been the primary consumer of intelligence information and therefore he cannot be taken for granted.
Sejjusa's matter was referred to the Rules and Disciplinary committee after the speaker Rebecca Kadaga confirmed that he was not in the UK on parliamentary or official army duties.
The committee will hear from witnesses starting on Thursday this week.