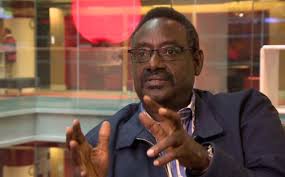 Even after missing out on the list of UPDF officers retired today,
Renegade UPDF General David Ssejusa is still optimistic that he will soon be retired from the army.
This comes a day after the 90 days required by the army to process one's retirement expired.
Addressing a news conference in Kampala this afternoon, Sejusa said contrary to earlier media reports, he received communication from President Yoweri Museveni who is also the commander in chief three weeks ago giving a go ahead to his retirement process.
Sejusa claims that in the letter, Museveni directed the army commander to expeditiously handle his retirement, though several senior army officers have previously denied receiving such instructions.
The UPDF Chief Political Commissar Col Felix Kulaigye says if the president issued such a directive to Gen Katumba Wamala, the UDPF commission's board will have to sit soon and consider Gen Ssejusa's retirement.
This comes as a total of 40 UPDF soldiers attached to the 4th Division army Barracks in Gulu district were retired from the army after years of being in active services.
The retirement exercise which took place at the 4th division infantry headquarter in Gulu Town today saw soldiers from ranks of Captain, Lieutenants, Lance Corporals and private officers relieved off their duties.
According to the 4th Division Spokesperson, Col Caesar Otim Olweny, the exercise was the first phase of the intended approved plans by the UPDF to retire 1,400 soldiers who had served for long in the army, those with old age and those whose health had deteriorated.
Story by Herbert Zziwa