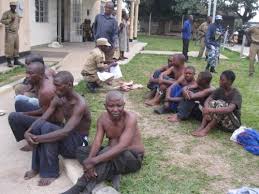 The General Court Martial moves to Kasese district tomorrow to start prosecution of the remaining 51 suspected Rwenzori attackers.
Last week 126 suspects who were arrested in Bundibugyo district following the attack were charged with various offences.
Major Ronald Kakurungu, the UPDF 2nd Division Spokesperson tells KFM that the court has now shifted to Kasese where its likely to conclude the first phase of the trial.
All those charged are now remanded to Kyotogyo prison in Fort Portal until July 30th.
The attacks blamed on tribal rivalry left over 90 people dead in the three districts of Ntoroko, Kasese and Bundibugyo.