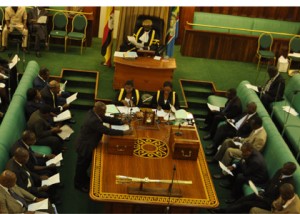 The Minister of Defense Dr. Chrispus Kiyonga says the president is taking measures to handle the recent fights among the generals in the army.
Kiyonga's response follows demands by legislators that government takes action to end the fights, which could disorganize the country.
This comes days after it was revealed that Gen. David Ssejusa wrote to the Internal Security Organization, asking for an investigation into claims of framing senior officers with criminal charges.
The framing reportedly targeted officers opposed to plans to groom first son Brig. Muhozi Kainerugaba for presidency.
The army commander Gen. Aronda Nyakairima has since issued a strong warning against Gen. David Ssejusa.
Minister Kiyonga has however told Parliament that all the allegations in the media are false and baseless and should not cause alarm.