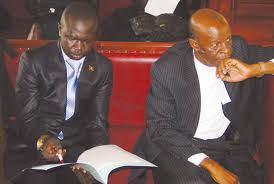 The Court of Appeal has upheld a sentence handed to former MP Akbar Godi.
The three Court of Appeal justices ruled that the evidence produced by prosecution is enough to confirm that Godi killed his wife Rehema Ceasar.
The judges based their ruling on evidence produced by the sister and mother to the deceased who said that the deceased had been threatened by Godi on several occasions.
Godi's car a Toyota Rav 4 is also said to have been cited at the crime scene with the cartridges of the bullets found at the scene similar to those of his gun.
The judges also confirmed that the mud on Godi's shoes matched with the samples taken from the scene of crime at Lukojo village, Mukono District.
Godi was convicted and sentenced to 25 years in jail in 2011.