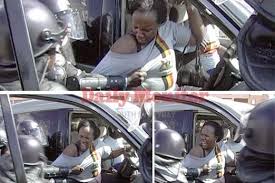 Government has apologized to Forum for Democratic Change's women's League leader Ingrid Turinawe.
This was after she was manhandled by a police officer who also allegedly squeezed her breast and vandalized her car in April 2012 in Nansana.
Through State Attorney George Kalemeera, Government says the action was unfortunate and embarrassing to Turinawe but asked the High Court to allow an out of court settlement.
Turinawe filed a case before the High Court seeking 560 million shillings in compensation for damages and atonement for this embarrassment.
Turinawe through Rwakafuzi and company advocates, sued the Police Director of Operations Andrew Felix Kaweesi and Attorney General Peter Nyombi also seeking orders directing the duo to identify and produce before court the male police officer who squeezed her breast.
Presiding judge Elizabeth Musoke has allowed the parties a chance to settle the matter out of court with Turinawe's lawyer Ladislous Rwakafuzi set to start by writing a settlement proposal to Attorney General.