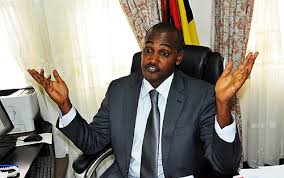 Government has refuted reports that presidency minister Frank Tumwebaze has been suspended.
In a statement dated 29th January 2015 security minister Muruuli Mukasa said that Tumwebaze is away on leave and not under any investigation.
Muruuli says Tumwebaze who is in his constituency in Kamwenge started his leave on 19th December last year and will return to office on the 2nd of February this year.
Muruuli warns what he termed as "hate groups" that he says are abusing the social media platforms granted by government.
Reports have indicated that the minister was suspended over 10billion shillings that was allegedly deposited on his fixed deposit account.